"John Paul Construction's meticulous restoration of the Adare Manor Hotel and Estate is one of the most prestigious and complex projects to be completed in Ireland in recent years.
John Paul Construction's restoration and remodeling of the Adare Manor Estate brought an estimated 750 workers to the picturesque area around the Co Limerick town of Adare. These people not only created a 'thing of beauty' on the Adare Manor Estate but also contributed to the local economy across the project duration.
The completed hotel is officially recognized as one of the most prestigious in the world, and it now sits in the John Paul Construction project portfolio as an example of exemplary restoration work.
Project Elements
The project comprised the delicate restoration of the existing manor house, which included front of house spaces, such as The Great Hall, The Gallery, The Drawing Room and The Oak Room. The 23 existing signature suites were wholly transformed into a world-class standard. Existing back of house spaces were converted into a spectacular spa facility consisting of luxurious treatment rooms, a pool and a gymnasium.
Exciting new features included the addition of 82 exquisite bedrooms and suites in a new west wing block. It also included a new conference and banqueting facility, a magnificent new ballroom, boardroom, cinema and many other modern amenities.
The project also included ancillary buildings, with a new energy center, facilities building, and golf clubhouse.
All internal estate roads were upgraded. Hard and soft landscaping was completed across the estate, providing the same quality of finish externally as internally.
"Both the original and new buildings have become a sequence of luxurious interconnecting spaces, which open onto formal gardens that, in turn, lead into mature parkland," Niall explains."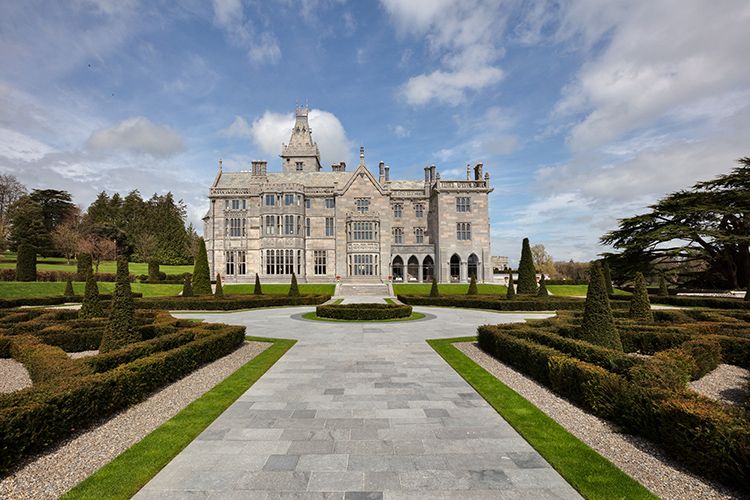 To read the full article follow this link: constructionnews.ie/adare-manor-restoration/
Credit: constructionnews.ie