CONSTRUCTION RECRUITMENT DIVISION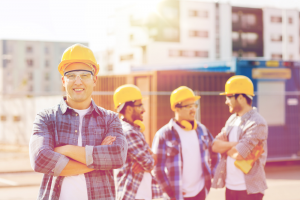 Established in 2005, Building Staff Solutions (BSS) is one of Ireland's leading construction industry recruitment specialists providing short-term & permanent placements to clients. BSS has worked with some of the largest construction companies in Ireland, providing staff ranging from general operatives and trades staff to engineers, quantity surveyors and site management. Based in Dublin and Wexford in Ireland, BSS prides itself in providing a quality service which meets the needs and requirements of clients.
Each client is allocated a BSS Account Manager who works closely with them to match personnel with specific needs while also ensuring that all staff comply with professional & statutory requirements. With a substantial database of qualified, proven and flexible personnel to choose from we are well placed to fullfill all staffing requirements. This database is constantly replenished by personnel who are interviewed, referenced and trialed onsite. All staff are monitored closely by BSS while they are working with clients.
Client Services
BSS have supplied both site operatives and management/tech staff to major sites across the country since 2005. We always aim to achieve a long lasting relationship with our clients by providing a responsive, flexible, professional service.
This is done by…
• Conducting regular calls to site
• Where necessary aiding staff in getting to site & site orientation
• Phone calls to client management to collate feedback on operatives
• Clear & accurate invoicing