2021 has been nothing less than a rollercoaster ride. The year that began with restrictions in place but observed a recurring increase in the construction activities throughout the country, calls for a quick look back.
Construction Review
Construction had a difficult start to the year due to COVID control efforts, with the sector grinding to a standstill once more following the 2020 closure. In Q1, there was a 25.9% year-on-year decline, but once limits were relaxed in Q2, there was a comeback, with a 22.9 percent gain. The Ulster Bank Purchasing Managers' Index shows this, with May to July being the second-best three-month period in the survey's 21-year history, and while the rate of increase is slowing, it continues to expand at a remarkable rate as limitations are eased, indicating pent-up demand. September's reading was 56.3, down from 57.5 in August (with above 50 indicating industry growth).
The most current CSO numbers show a 7.7% quarterly gain in volume in Q2 and a 26.3 percent year-over-year increase in building and construction products in 2021 to date.
Residential had the best quarterly performance, at 52.6 percent, followed by civil engineering at 30.6 percent, and the non-residential sector at 2.2 percent, according to the seasonally adjusted volume index. When comparing year-over-year growth, civil engineering had the biggest volume rise of 85 percent, followed by residential at 43.6 percent and non-residential at 19.1 percent.
In terms of the value index, it increased by 20.8 percent on a quarterly basis and 34.3 percent year over year in Q2. When looking at the above figures, keep in mind that the Capital Goods Price Index has been rising in recent months, which will have an impact.
The CIF expects a 1% growth in modified investment in building and construction this year, increasing to around 5% in 2022 and 6% in 2023.
Non-residential investment reached a new high in 2019 but is predicted to decline by 9.5 percent in 2020, increasing by 3% in 2021 and 5% in 2022.
The data hint at the delayed activity as a result of industrial shutdowns, rather than weaker demand.
With extraordinary lead times and shortages as a result of both the pandemic and Brexit, supply chain disruption and material cost inflation are still major concerns for the sector.
Another major challenge for the business is labor scarcity, which has resulted in a demand bottleneck on the employer side. However, as of the end of August, 12,000 construction employees were still receiving the Pandemic Unemployment Payment. With the government's Housing for All plan putting out ambitious ambitions for the residential sector in particular, 55,000 construction workers are expected to be needed, so it's clear that tackling the skills gap should be a top priority for the industry.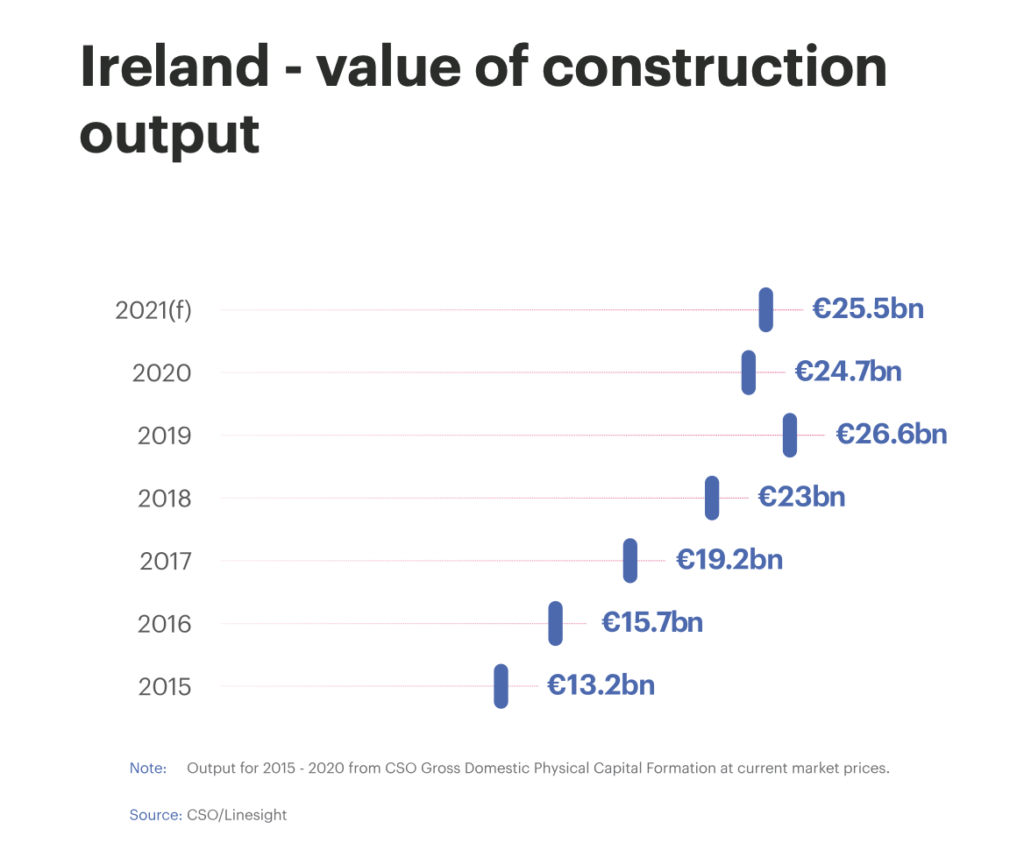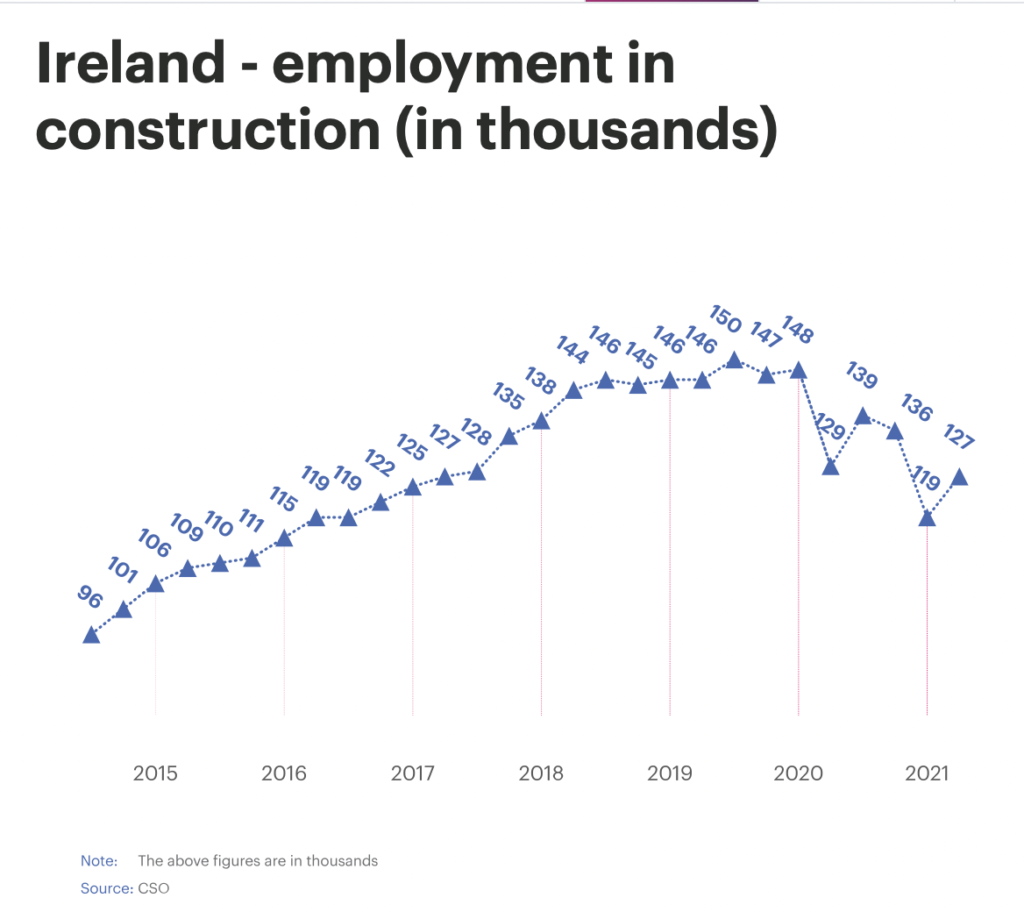 Economic Overview
According to Eurostat, the Irish economy increased at three times the rate of the EU-27 in Q2, with a 6.3 percent increase over Q1 compared to 2.1 percent throughout the union, with double-digit growth expected for the entire year of 2021. The result for the second quarter was up 21.1 percent from the second quarter of 2020. Last year's growth was fuelled by international activity (pharmaceuticals, computer and business services exports), while this year's growth has been fuelled by domestic demand as the economy has reopened.
The government revealed earlier this month that the budget deficit for this year is expected to be €13.165 billion, down from a target of €20.285 billion previously. Following a peak of 31.5 percent in April 2020, the COVID-adjusted unemployment rate has fallen to 10% in September 2021, following a brief surge to 27 percent in January 2021 as severe restrictions were reinstated in Ireland.
In response to pressure from the European Union and the United States, as well as worldwide tax developments, Ireland's Cabinet agreed in November that the corporation tax rate will be raised from 12.5 percent to 15 percent. With 140 nations signing on, the OECD has proposed a new framework agreement on global corporate tax reform with the goal of modernizing tax systems and reducing what it calls "aggressive tax planning" by certain corporations.
Credits: Linesight.com
Source: https://www.linesight.com/insights/regional-report/europe-2021/#reviewirl